Gift Baskets & Boxes
Give a Delicious and Thoughtful Gift!
Our specialty fresh fruit, home made bakery and gift baskets are hand created to meet your specifications to ensure that each recipient is happy with their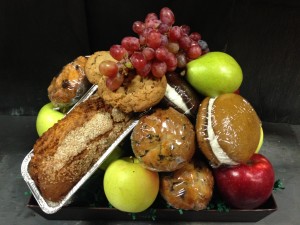 gift! Select from our 12 uniquely designed baskets or boxes, or feel free to customize your own with your favorite items from Flinchbaugh's. Our gift baskets are available Monday through Saturday.
DELIVERY is available within a 12 mile radius of our Farm Market. Exceptions are entertained.
SHIPPING is available to any state in the Continental US September through May (not available June-August).
PICK UP is available daily from our Farm Market.
TO ORDER: Click here to Order Online or call the Farm Market (717)252-2540, email enjoy@flinchbaughsorchard.com or stop in the Farm Market to place your order.