Employment
Join The Team At Flinchbaugh's Orchard
We are extremely proud of the hard working and welcoming team we have here at Flinchbaugh's Orchard and Farm.  Being a diverse farming and orchard business, we seek out individuals who are team players, value learning and are committed to growing themselves.  We encourage everyone age 16 and older (such as students, stay at home moms, dads, teachers, retirees and grandparents) to apply! Several positions require age 18 or older (see below).  We also are always looking for team players who can help on weekends or evenings in September and October. Check out the employee opportunities listed below to see what you might enjoy.
All staff are provided with a Flinchbaugh's Orchard T-shirt, free admissions to our Corn Maze, receive an employee discount in the farm market, are paid a competitive wage and have paid training.  Ooo … don't let us forget the bonus of delicious snacks and fruits.
Positions and Descriptions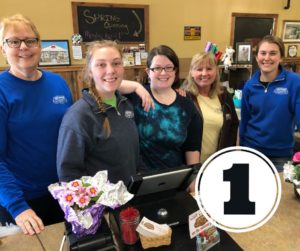 Event Coordinator (posted 6/1/22):
This part-time position will lead the coordination of current special events at the farm year-round and use their creative side to develop additional key events to support the farm's marketing plan.
Full-time Agronomy Farm Operations (posted 6/1/22):
This full-time position includes work in the grain crop side of our farm.  It is a field level position that involves both farm equipment and truck operation, hands on work, and workforce management.
We are excited to add this long-term employee to our team, who has a desire to learn and grow in their level of responsibility.
Market Team Members (posted 6/1/22):
Are you friendly, energetic and outgoing?  Do you love fresh foods, interacting with and helping others?  We're looking for you to help our customers find what they need, manage their purchases and stock shelves weekdays. Needed August-November.
Weekend Smile Makers (posted 6/1/22):
We are searching for awesome, friendly, fun and motivated individuals to work part time during our Fall season!  It is great time to earn some extra holiday cash!  Needed August-November.
If you like the idea of working in an active environment and being a part of fun team – then this is the job for you!
Or choose any of the following options:
Download our application here >> Employee Application 2022
Send us a copy of your completed application by email to enjoy@flinchbaughsorchard.com, drop it in the mail to Julie at Flinchbaugh's Orchard  at 110 Ducktown Rd York, PA 17406 or deliver it in person to the Farm Market.
We will email or call you within 7 days of receiving your application.  Individual interviews will be set up based upon need.