Our Story
Putting fruit trees in the rich York County soil was the first step in growing the Flinchbaugh's Orchard you now know today
Jacob and Minnie Flinchbaugh moved the family farm from Lancaster, PA to Hellam, PA in March of 1951. Putting fruit trees in the rich York County soil was the first step in growing the Flinchbaugh's Orchard you now know today. Jake and Minnie never lived on the farm, but held key roles in the operation of it. Their son and daughter-in-law, Bill and Louise, moved onto the farm when their oldest son, Ritchie, was just 3 months old. They worked on the farm raising dairy cattle, field tomatoes and orchard crops for several years. As the Flinchbaugh family grew, so did the operation, expanding to include chickens, hogs and field crops.  Ritchie, and wife, Sonia took over ownership and full management of the farm from his parents fully in 1996.  "Grandma Louise" was the smile that started it all. Today you will be greeted by many friendly faces in the market.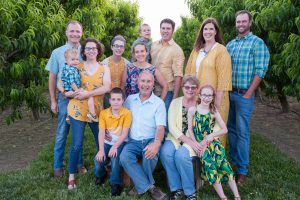 Today, Flinchbaugh's Orchard and Farms encompasses nearly 420 acres of land and is maintained by three generations of Flinchbaugh's, who have a deep pride in their farm, the environment and providing quality products to customers.  An additional 1300 acres of leased ground is cropped with corn, soybeans, wheat and hay.  Our expanded retail Farm Market was finished in 2006 based upon the decision of Ritchie & Sonia's three children – Mike, Andrew & Julie – to return to work in the family business after each graduating from Penn State.  With 8,000 square feet of sales area, additional operating facilities and picnic pavilion – our Market allows us to connect directly with consumers and provide opportunities for educational activities to connect the public with their food sources.
Important to the Flinchbaugh family is conservation at all levels – water, land, energy and environmental resources. Conserving water through the use of drip irrigation and practicing Integrated Pest Management techniques to reduce the levels of pesticides, the orchard utilizes the latest technologies to operate as an environmentally sound and efficient farm. In addition to the orchard and produce crops, the Flinchbaugh family crops field corn, soybean, wheat and hay.  Securing a vibrant future for agriculture, the latest technologies, conservation practices (ex. no-tillage) and safest production methods are utilized.
Striving to interact with our local community, all family members serve on local and regional boards and committees in preserving farm ground, generating solutions for issues within the agriculture industry, protecting our rich York county soils, promoting agriculture and engaging our consumers.  We also work closely with several other local landowners who lease their ground for us to care and maintain as a part of our farming practices.  We always welcome new land owners to connect with us to learn more about how we farm and if we could care for their soils as well.