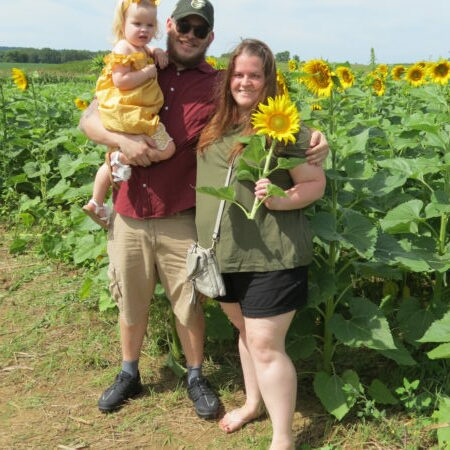 Date
Aug 28 2020

- Oct 10 2020
Expired!
Sunflower Experience
Sunflower Experience
August 28 – October 10th | Mon-Fri 9a-6p | Sat 9a-3p | Sun closed
Add a visit to the stunning Sunflower Fields at Flinchbaugh's to your Bucket List this year.  Sunflowers are one of life's little pleasures. The bright, cheery flowers evoke feelings of warmth and nostalgia.  Witnessing acres of sunflowers lined up like sunny soldiers is a truly awe-inspiring experience. Plus don't leave without memories, photos and some sunflowers.
What to Expect:
Admission to the fields: FREE
Stems for cutting:  4 for $8 or $2.99 ea.
Photos in field: $1+/per person donation for the Pediatric Cancer Foundation
At arrival, PARK in the grass lot marked "Overflow Event Parking."  Then check in at the Market.
We provide sanitized cutters.
Safety Plan
Social distancing remains important at our farm – inside and outside.  All guests are asked to remain a minimum of 6-feet from other guests and staff.  Guests and staff are required to wear masks when you are unable to distance properly from others at any of our outside events AND when shopping in our Farm Market. Our fields and orchards are large, which should allow for ease of social distancing.
Hand Sanitizing stations are set up at various locations around the farm.  You will be requested to utilize them before entering our pick your own areas.
Pets on the Farm
Dogs are permitted on the farm premises ONLY in the following areas: corn maze, sunflower fields and pumpkin patch.  They are NOT permitted in the Farm Market, Pick Your Own Orchards or on Wagon Rides, unless they are assistance pets.  Dog owners are required to appropriately clean up after their dogs and remove their trash. In addition, your dog must be leashed and people friendly. If there are concerns, we do reserve the right to ask you to remove your pet from the property.
Tentative Dates for Fields to Bloom:
August 10-15
August 26-29
Sept 9-12
Sept. 30-Oct 3
Oct 14-20
Hourly Schedule
Weekday Hours / Weekend Hours
9:00AM

-

6:00 PM

Monday - Friday
9:00 AM

-

3:00 PM

Saturday