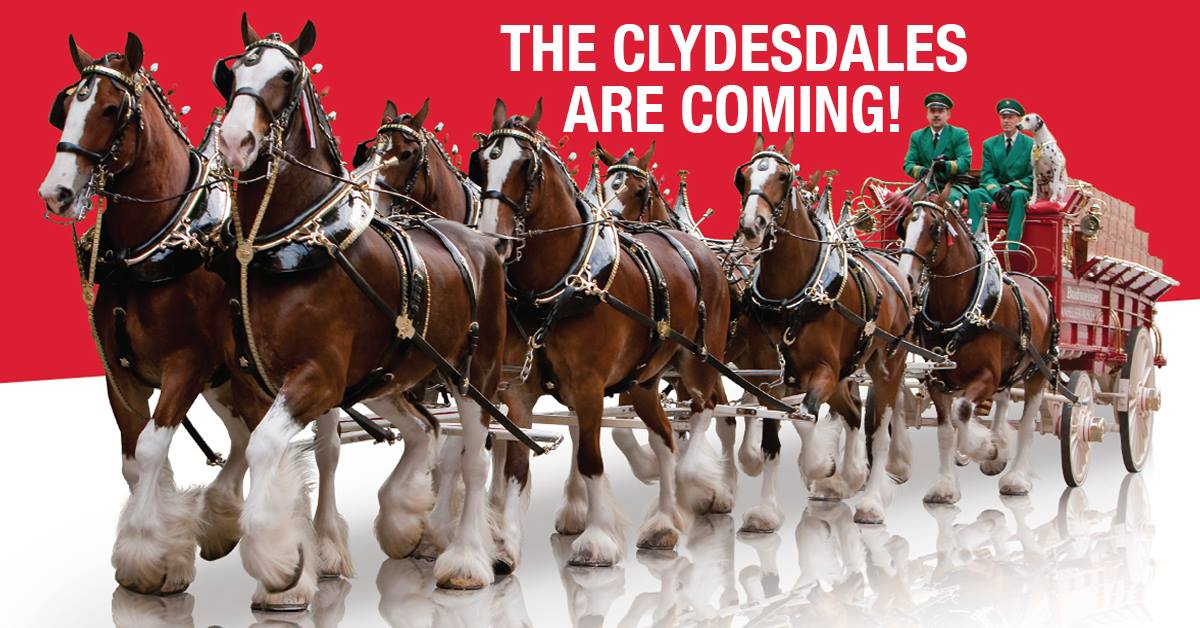 Date
Jun 21 2022
Expired!
Clydesdale Horses at the Farm
The Clydesdale Horses are coming to the farm!
June 21-26 *please note special viewing hours listed below
In partnership with Brewery Products, we will be rolling out the red carpet for the Clydesdale Horses as they will be stabled at the farm for a week!  You will have the opportunity to meet and greet the horses during public viewing times, as well as learn more about their magnificent breed. Enjoy lunch at the farm each day with food trucks and additional farm fun.
Tues June 21:
Public viewing at 10a-5p
Food Trucks: Cheezy Grill, Auntie Anne's, Farm Show Milkshakes
Wed June 22:
Public viewing 10a-3p
Food Trucks: G's Concessions, Auntie Anne's, Farm Show Milkshakes
Thurs June 23:
Public viewing 10a-5p
Food Trucks: Bricker's Fries, Auntie Anne's, Farm Show Milkshakes
Fri June 24:
Public viewing 10a-3p
Food Trucks: Bricker's Fries, Auntie Anne's, Farm Show Milkshakes
Sat June 25:
Public viewing 10a-3p
Family Fun on the Farm: Scavenger Hunt (the hunt has been canceled), mini Touch a Tractor, Wagon Rides, Live Music; plus beer sampling 1-3p
Food Trucks: Bricker's Fries, J&J Eats, Chicken BBQ by Brian's Best, Farm Show Milkshakes
Sun June 26:
Public viewing 11a-3p
Food Trucks: Bricker's Fries, Farm Show Milkshakes
Hourly Schedule
Tues June 21:
10:oo am

-

5:00 pm

Food Trucks: Cheezy Grill, Auntie Anne's, Farm Show Milkshakes
Wed June 22:
10:00 am

-

3:00 pm

Food Trucks: G's Concessions, Auntie Anne's, Farm Show Milkshakes
Thurs June 23:
10:00 am

-

5:00 pm

Food Trucks: Bricker's Fries, Auntie Anne's, Farm Show Milkshakes
Fri June 24:
10:00 am

-

3:00 pm

Food Trucks: Bricker's Fries, Auntie Anne's, Farm Show Milkshakes
Sat June 25:
10:00 am

-

3:00 pm

Food Trucks: Bricker's Fries, J&J Eats, Chicken BBQ by Brian's Best, Farm Show Milkshakes
1:00 pm

-

3:00 pm

Family Fun on the Farm: Scavenger Hunt, Touch a Truck, Wagon Rides, Live Music; plus beer sampling 1-3p
Sun June 26:
11:00 am

-

3:00 pm

Food Trucks: Bricker's Fries, Farm Show Milkshakes