Summer & Fall!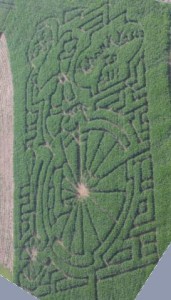 We're celebrating 10 years at our current location and we have highlighted this in our Corn Maze for 2016 – Just Ride it!  Our 5 acre corn maze is the perfect size for family and friends who want to wander the paths of the corn field, but not spend hours being lost!
High­lights
Fees for the corn maze is: $5 per adult and $4 per child (3-12 years) and includes:
• Approximately 30-60 minute adventure
• Scavenger hunt – find all the stamps in the Maze and earn a free piece of fruit
Maze Hours:
Monday-Friday 9am-6pm. Saturday 9am-4pm.  Sunday – closed.  Entrance to the maze ends 30 minutes prior to the maze closing.  The Corn Maze is open through November 12.