Welcome to Flinchbaugh's Orchard and Farm Market!
Flinchbaugh's Orchard is a fourth-generation family run farm located on the eastern side of York, PA in Hellam Township.  Our Orchard and Farm Market is open year-round to offer you a fresh stock of our own fruits and vegetables, baked items, and a wide variety of specialty foods, gifts and plants.
Our Farm Market serves our community as a hub for local foods – procuring a mix of locally grown and prepared food items from farmers and nearby food processors.  We love connecting you to your food source, providing various educational farm tours, festivals, and pick-your-own opportunities.
IMPORTANT TRAVEL NEWS: 
As you prepare to travel to Flinchbaugh's in 2017 – you will encounter a Road Closure on Ducktown Rd as PennDot replaces an aging bridge to the South of the Farm Market.  However, we ARE ACCESSIBLE from the north entrance of Ducktown Road at the intersection of Market Street/Route 462 through to our Farm Market.
If you typically travel to us from Mount Pisgah Road – we ask that you follow the detour signs to reach us from Market Street.  The detour will add approximately 5 additional minutes to your travel time.  The detour will route you via Yorkana Road or Cool Creek Road to Market Street and thus to Ducktown Road.  Please call us with any questions (717)252-2540.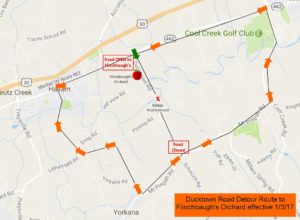 We invite you, your family and your friends to discover  the variety of activities and products at Flinchbaugh's Orchard and Farm Market!